Launch X431 Torque Vs. X431 V PRO Vs. AUTEL MS906BT Comparison and Recommendation
|
Nowadays, having the best Automotive Diagnostic Scanner has become vital for all professional mechanics. Only then can they receive insight into the car's engine's deeper recesses and perform their work efficiently. Non-professionals can also buy these tools to keep a check on their automobile's overall health. In short, an Automotive Diagnostic Scan Tool can help turn off the 'check engine' light and carry out other similar tasks without any costly repairs.
However, you will find that people are often stuck with the comparison of Launch X431 Torque vs. Launch X431 V Pro vs. AUTEL MS906BT. As all of the tools offer great features, it becomes challenging for everyone to pick one.
That's why we have brought you a detailed review of these three diagnostic scanners. The mentioned features and benefits will show you which tool will fit best in your purpose. Plus, you will get to know whether or not they live up to their hype and expectations. So let's get started.
Launch X431 Torque Vs. X431 V PRO Vs. AUTEL MS906BT: Comparison Table
Launch X431 Torque

Launch X431 V PRO

AUTEL MS906BT

Weight
18 lbs
10.38 lbs
18.96 lbs
Dimensions
23.5″ x 16.5″ x 6.75″
20.2″ x 13.8″ x 4.3″
10″ x 6.9″ x 1.4″
Vehicle Compatibility
Over 10,000 vehicles supported
Over 90 vehicle brands supported
More than 80 vehicles covered
Read & Clear Codes
✔️
✔️
✔️
DPF Regeneration
✔️
✔️
✔️
Fuel System Diagnosis
✔️
✔️
✔️
Ignition System Diagnosis
✔️
✔️
✖
Transmission diagnosis
✔️
✔️
✔️
Brake System Diagnosis
✖
✔️
✔️
SRS Diagnosis
✔️
✔️
✔️
EPB Reset
✔️
✔️
✔️
Oil Reset
✖
✔️
✔️
ABS Bleeding
✖
✔️
✔️
Pros
Compatible with all your professional mechanic tasks.

Large battery time and great LCD display.

Free updates for two years.

Offers various functions such as TPMS reset and DPF regeneration.

Designed with a Lenovo tablet, making it suitable for all purposes.

Multiple language support.

High-quality display.

Automatic software updates and a durable battery life.

Cons
Doesn't offer extensive features to attract most domain experts.
Expensive option that may not fit into your budget.
Offers only 1-year of free updates.
Recommendations
Launch X431 Torque
The tool will be extremely beneficial if you are new to professional mechanic work. It provides you with every basic feature that you will need to avoid any mistakes and efficiently perform the tasks.
Launch X431 V Pro
If you have been working in the industry for a few years and are a professional, you will be satisfied with this product. Even its high cost will be justified when you use it every day for the purpose.
Autel MS906BT
This one stands somewhere between the other two options. It offers great features, plus comes at a reasonable price. Therefore, you can go for it if you don't want to invest extra money and still want all the features for your professional tasks.
Key Things In Common of Launch X431 Torque, Autel MS906BT, and Launch X431 V PRO
Launch X431 Torque, Launch X431 V PRO, and AUTEL MS906BT are designed to take care of complex and basic car issues that affect performance. Whether you want to run tests on ABS, SAS, or SRS systems, these tools will be able to help you.
When we talk about their similarities, all the three OBD2 models offer unmatched vehicle coverage. That is, they can diagnose a full system of prevailing vehicle models covering American, European, and Asian vehicle makes.
Most importantly, these scanners offer a wireless diagnosis. They can be connected to a phone or tablet via USB cable or Bluetooth to offer a seamless car engine configuration.
Lastly, they all run on Android systems. However, their versions are different.
Launch X431 Torque Vs. X431 V PRO Vs. AUTEL MS906BT: Key Differences
The key differences between Launch X431 TorqueX, Launch X431 V PRO, and AUTEL MS906BT sets them apart. Whether it is user experience, design, functionality, and features, they have different approaches to attract the target audience. While choosing between the three, it is important to pay attention to the details that make each model unique. This can help you make the correct decision about which one to pick.
Design And Specifications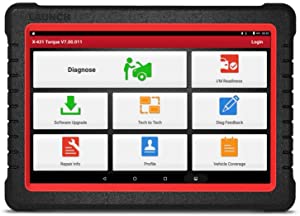 Launch X431 Torque features a large 10.1" WXGA, 1280×800 IPS display with built-in Wi-Fi. This makes it a full-function and full-coverage scan tool. It is powered by Android 7.1 and includes a browser, allowing you to surf the web at any time. Its wireless design makes it compatible with modern cars and vehicles for a hands-free experience. Launch X431 Torque has been designed to be the most user-friendly car diagnostic tool. Since it uses Android, you can run internet services, email, printer apps, weather, games, and maps on it. Therefore, you can use it smoothly for all professional purposes. It looks like a tablet with sturdy construction. The high-grade plastic used protects it from daily wear and tear.
In terms of specifications, it features a Qualcomm Snapdragon 425 processor with a 7000 mAh battery. It can last up to 8 hours. Moreover, Launch X431 Torque comes with 2 GB memory space, which is extendable up to 64GB. There is a card slot provided for that. Overall, the design and specifications of Launch X431 Torque are modest and convenient, even for a new mechanic in the house.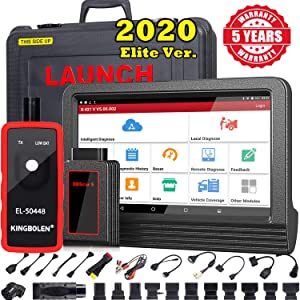 Launch X431 V PRO is a bi-directional car diagnostic tool, equipped with a smaller 8-inch ultra-high resolution IPS touchscreen display. Completely wireless, this scan tool works fast, making it easy to run tests. This is a branded Lenovo tablet with a 5MP rear camera. It gets powered by a 7000 mAh battery, which can last up to 10 hours. When you don't have any car to scan, you can use it as a normal tablet. Since it runs on Android 9, you can download your favorite applications like Facebook, Instagram, etc. on it.
It includes 16 GB storage space, which can be extended up to 128 GB. This allows you to store all your customer data and vehicle records securely.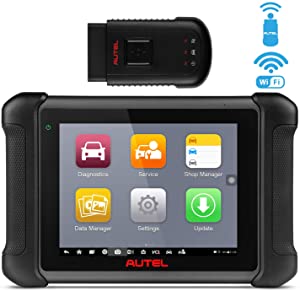 AUTEL MS906BT is a wireless, bi-directional automotive scan tool that supports data transmission through lined connection or wireless VCI dongle. It has an ultra-long working range of 50 meters, allowing you to perform car diagnostics remotely.
The device comes with a 7-inch display, which is shorter than the previous two models discussed. Nevertheless, it is wide and easy to navigate, giving you the feeling of using an Android tablet or phone. With a screen resolution of 1024×768, the results displayed on the screen are crystal clear. Lastly, it comes with 32 GB of storage space.
Overall Features And Functions
Launch X431 Torque's most unique functionality is the intelligent VIN acquisition and decoding feature. You can read the VIN of the compatible cars in seconds and determine its make and model. It provides full coverage of American, European, and Asian vehicles. The Tech to Tech Remote Diagnostics feature supports remote diagnostics between technicians or shops. And the new Bluetooth technology with wireless OBD communication allows for the fastest cordless experience.
Launch X431 V PRO allows for both OBD 1 and OBD 2 diagnosis. It comes with necessary connectors and accessories to support the complete OBD protocols. The device also supports more than 30 special reset functions. This includes ABS bleeding, oil lamp reset, injector, TPMS reset, steering angle calibration, and key coding, among others. Moreover, the Health Report functionality generates the overall health report of the vehicle in just one click. The bi-directional control also performs specific tests and functions as per request.
AUTEL MS906BT consists of 21 service functions, including SAS calibration, ABS Auto Bleed, EPB service, Oil Reset, and DPF Regeneration. What's interesting is the use of VIN-based auto VIN technology that allows you to determine the vehicle's make and model. Another exciting part is that there are read and clear codes present on all available modules, including RADIO, SCCM, PMD, etc. It also comes with key fob programming that enables you to add new keys to your family. This safeguards your vehicle from being stolen.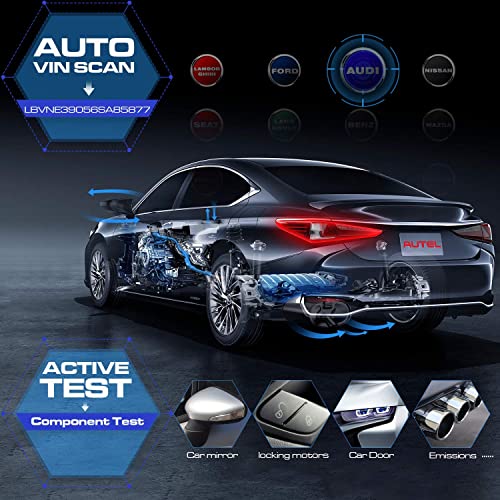 Extra Features And Functions
Launch X431 Torque doesn't boast any extra complex features, making the device more sophisticated for beginners and new mechanics. Therefore, it is a convenient tool for professionals who don't want to make any mistakes during their training sessions or initial car scans. Still, you can find some interesting features like Smart Diagnosis. Moreover, it allows for the download of third-party apps, making it a more fun scanning tool.
When we talk about the Launch X431 V PRO's advanced features, attributes like ECU coding, Matching, and Online Repair Resources, makes it a complete diagnostic tool for professionals. There is also a Multi-PID Live Data Graphing feature. This helps technicians to analyze the relationships between calculated values, actuators, and various sensors.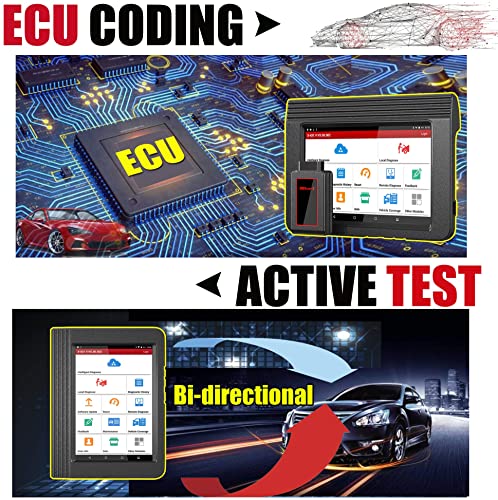 You will love the advanced ECU coding capability of AUTEL MS906BT. It allows you to establish a data link to any vehicle's electronic control system using a VCI device. The non-standard OBD adapters are compatible with different make and models of vehicles.
Supported Protocols
Launch X431 Torque – OBD2 protocol
Launch X431 V PRO – Both OBD1 and OBD2 protocols
AUTEL MS906BT – OBD2 protocol
Supported Vehicle Makes
Launch X431 Torque provides full coverage of American, European, and Asian vehicles. This includes new exotic vehicle coverage from Maybach, Lamborghini, Alfa Romeo, Bugatti, Rolls Royce, Aston Martin, Bentley, Ferrari, and Maserati.
Launch X431 V PRO has extensive compatibility with over 90 different car brands. American Car Models include HM, JEEP, DODGE, CHRYSLER, CHEVROLET, CADILLAC, BUICK, GM, LINCOLN, and FORD. European Car Models include Mercedes, Audi, Lamborghini, Porsche, BMW, Maybach, Bentley, Landrover, Rolls Royce, etc.
AUTEL MS906BT provides an unmatched vehicle coverage of more than 80 domestic, European, and Asian vehicles. This includes BMW, GM, Kia, Mitsubishi, Hyundai, Nissan, Honda, Chrysler, Volkswagen, etc.
Software And Updates
Launch X431 Torque is powered by Android 7.1 and comes with a 2-year free update.
Launch X431 V PRO is powered by Android 9 and comes with a two years free software update. You can still use all the scanner functions for basic functions, even if you decide not to update the software after two years.
AUTEL MS906BT is an Android-powered scanning tool that comes with 1-year software updates that come into action frequently
FAQs
For How Long The Updates Are Free?
Both the Launch variants provide you with free updates for two years. On the other hand, Autel MS906BT comes with only 1-year free updates.
How To Update The Tools?
Each of the tools comes with its own update duration. You can turn on the free updates, and your time will start from that very moment. The tool will use the internet to get updated.
Can They Re-program TPMS?
Only Launch X431 V Pro comes with the feature of TPMS reprogramming. The others don't support it.
Is Mileage Correction Supported By Them?
You can correct/reset the mileage only with Launch X431 Torque. The other two variants don't offer this feature.
How Much Does Their Subscription Cost?
The overall price depends on the features you update every time. However, you can expect the cost to be:
Launch X431 Torque: $350-$450 per year
Launch X431 V Pro: $400-$600 per year
Autel MS906BT: $500-$700 per year