Launch VS Autel Which is Better
|
OBD2 Scanners is reader-supported. When you buy through links on our site, we may earn an affiliate commission.
Launch and Autel  are some of the best OBD2 Scan tool brands on the market. Most of the time, you will find people stuck between choosing from one brand or another. This is normal as these two brands offer similar features and excellent scanners.
At a Glance: Our Top Picks for Launch and Autel: Which is Better?
Autel MaxiDAS DS808
Launch X431
Launch X431 V Pro
Comparison Chart of the Best Launch VS Autel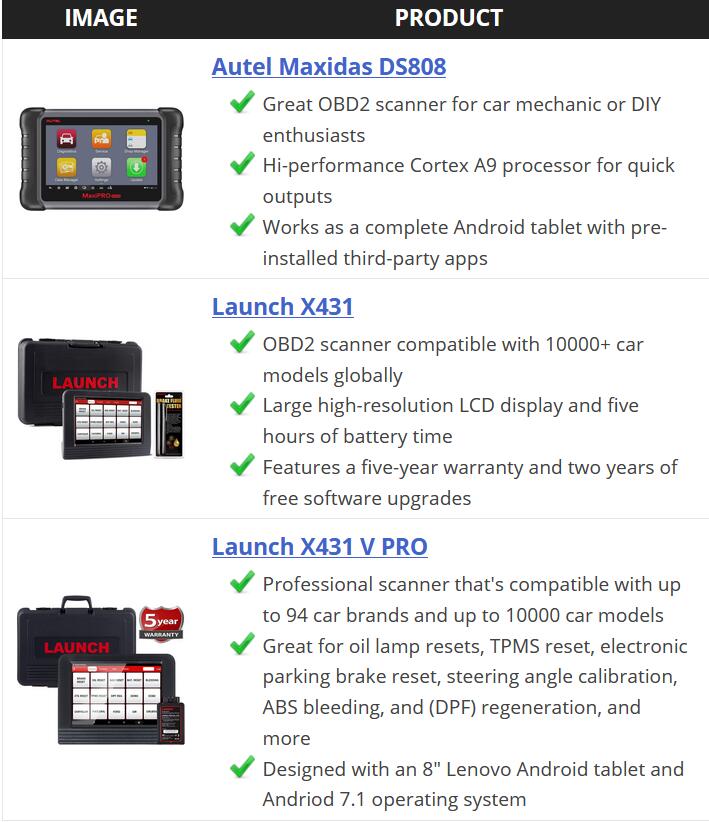 Comparison of Autel and Launch
We have compared different scanners from both brands to help you make a well-informed decision.

Review of the Best Autel and Launch
1. Autel Maxidas DS808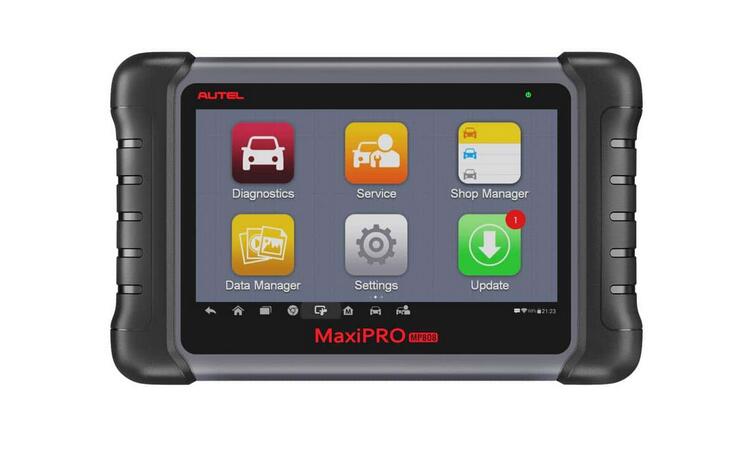 The Autel maxidas ds808 is a high-end device built for professionals. The diagnostic scanner has a large 7-inch LCD touchscreen that displays data clearly. You don't need any knowledge to use this user-friendly gadget. It uses cortex-A9 processor and its operating system is Android 4.4.4. In addition, this outstanding device is powered by a 3.7v lithium polymer battery and it is charged via 5 VDC power supply. It has a 32 storage memory that allows the technician to store all the data recorded. Also, the ds808 scanner is Wi-Fi enabled and allows you to update software.
The built-in camera found on the device can be used to take pictures and the storage casing is for secure keeping of the diagnostic scanner after use. This Android OS tablet has a PDF viewer, chrome, plays Utube, and its sleekness means it is easy to carry or use. Some of the different functions that it performs include read & clears codes, freeze frame data, code troubleshooters, EPB service, DPF reset, oil service reset, ABS bleeding, ECU information, reads/records/graphs live sensor data, and many more.
One of the reasons why it is loved by mechanics is because it is compatible with both OBD1 and OBD2 vehicles. It is also compatible with more than 80 US, European, and Asian vehicles.
2. Launch X431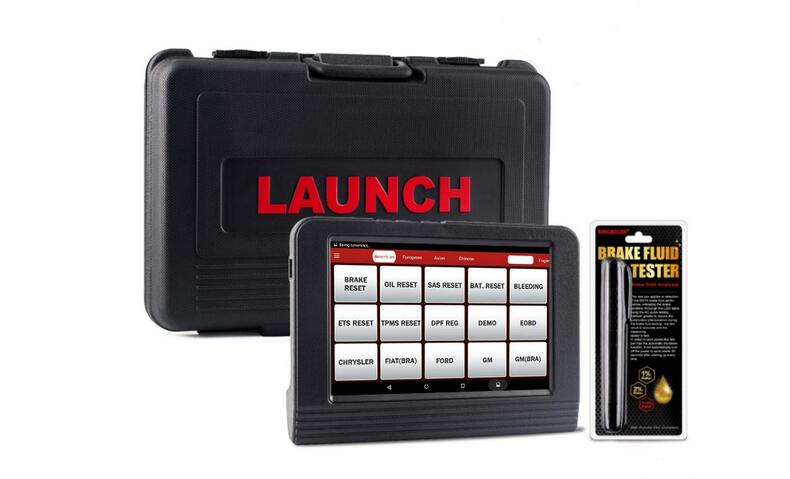 This is another high-quality gadget from the Launch brand. Launch X431 scanner is one of the most sought-after professional diagnostic scan tools on the market. This is because it is very reliable in performance and provides very accurate results. The Launch X431 automotive scanner comes with an 8-inch screen with ppi. This is large enough for easy viewing of results and photos that were taken. It has a rear 5MP camera and front camera with 1080p HD video recording. This is a very powerful device when compared to the Autel ds808 as it has Quad-core 1.3 GHZ and Android 4.2 operating system. It comes with a 16GB memory but it can be expanded up to 32GB.
The Launch X431 automotive scan tool is powered by a 4200mAh rechargeable polymer lithium battery that as well charges via 5 VDC power supply. It is also Wi-Fi and Bluetooth enabled. The manufacturer offers 2-years free update and warranty. This scanner is compatible with more than 68 vehicle brands and 220 car models from Asia, Europe, and America. It performs both special and basic functions like reading and clearing codes, oil service reset, battery registry, ABS bleeding, DPF rest, tire pressure monitor system reset, freeze frame data, and so on.
3. Autel Maxidas DS708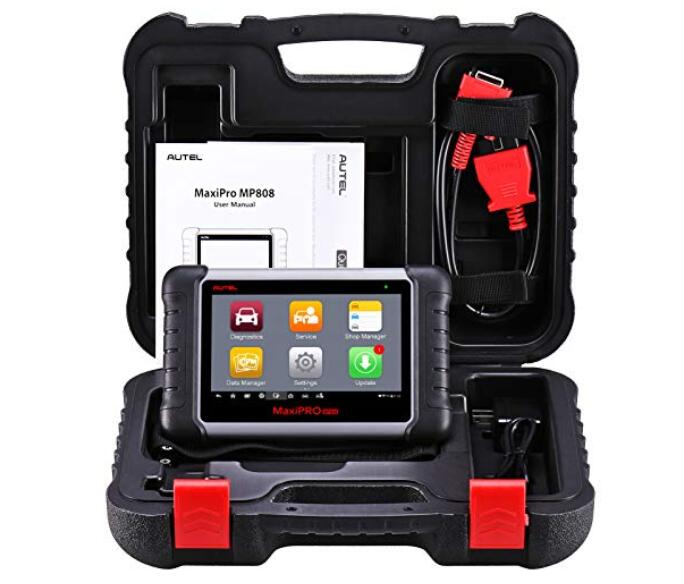 The Autel Maxidas ds708 is one of the best selling Autel scanners on the market. This device has now been upgraded to ds808, which we have discussed above. The Autel ds708 is a simple and portable scanner for professionals as well as car enthusiasts. It comes with a large LCD screen for displaying results. It is compact and very easy to use or keep. The diagnostic scanner is also Wi-Fi enabled but doesn't have Bluetooth.
It has a multilingual menu which allows the user to choose different languages of their choice. Its main function is OBD diagnosis but it also performs special functions. Autel ds708 is compatible with more than 40 vehicle makes from Asia, Europe, and America.
4. Launch X431 Pro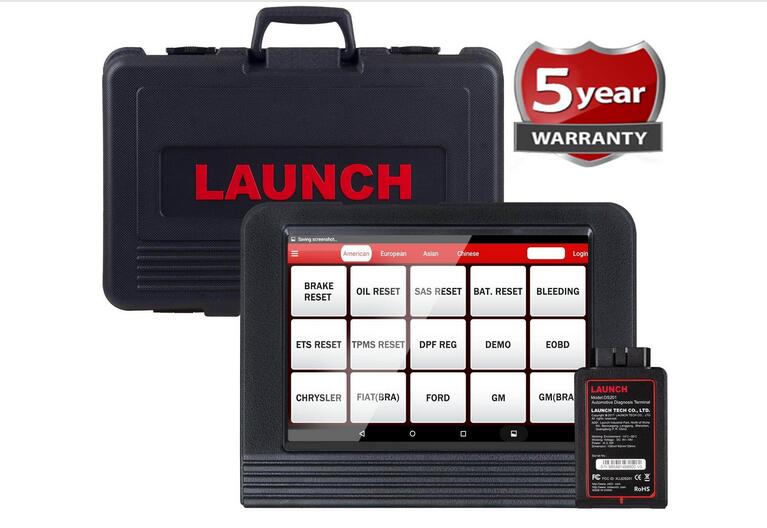 This is another versatile tool with lots of amazing features. It might be expensive but you will get value for your money. The Launch X431 Pro diagnostic scanner has an 8-inch LCD screen and provides the user with multiple languages. It is Wi-Fi and Bluetooth enabled which is a wonderful feature to have for easy use of the gadget. The scan tool can as well as print data and has a powerful processing system.
Its main function is full system OBDII diagnosis and it as well s performs several special functions. With coverage of more than 69 vehicle brands and 220 car models from Asia, Europe, and USA, this is a device that every professional should have.
Conclusion
Launch and Autel are two excellent scanner brands to buy from. If you are looking for a professional scanner but want something affordable, I would recommend Autel. But if you want a scanner that is very reliable and ready to spend cash to get it, then Launch is the best OBD2 scan tool to buy. For ease of use and support, Launch is more suitable than Autel. For instance, to change a language, you will need to call Autel customer care whereas in Launch you will just install software and you are ready to go. But still, both are excellent scanners and deliver accurate results.