MB Star Diagnosis SD C4 MB Star C4 SD Connect Multiplexer For Benz C4 Mux
|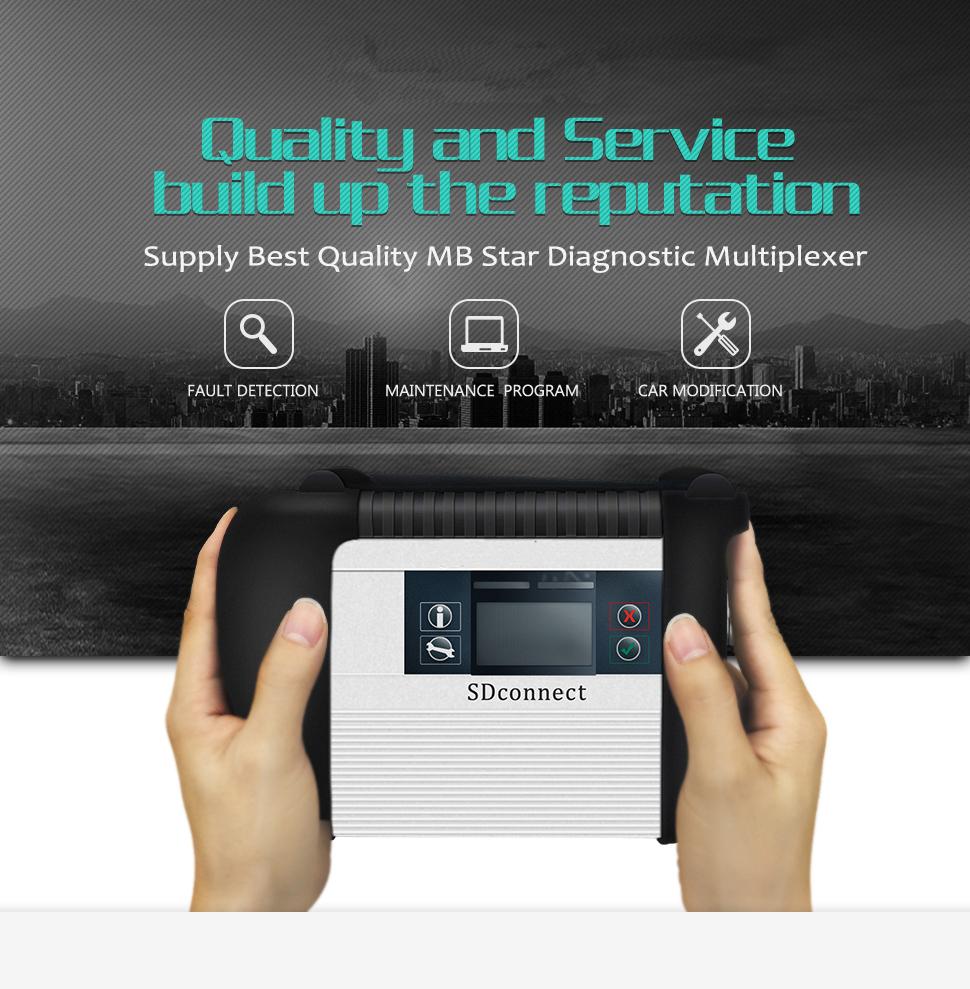 MB SD Connect C4 Profile:
1.  Software Version: 2019.07
2.  Hardware Verison:  OS:2.3   CSD:2.11
3.  Support Wireless/ Lan Cable Connection
4.  Work for Benz Car & 24V Trucks
5.  Supported Multi-Language: English, Bulgarian, Danish, Greek, Spanish, French, Italian, Korean, Polish, Romanian, Serbo-Croatian, Turkish, Czech, German, Finish, Hungarian, Japanese, Dutch, Portuguese, Russian, Swedish, Chinese
Why Choose VXDAS MB Star C4 SD Connect Multiplexer?
*   Serial No.is 100925, work with blacklist path Installed on MB Star C4 software, hardware never block
*   Support put into AAA Battery to update the VXDAS SD C4 firmware
*   Hardware PCB board with full new Samsung chip layout, work a long lifetime
*   With 108Mbps wifi card running more stable & faster than ordinary 54Mbps wifi card inside
*   All VXDAS SD Connect will be power on and aging than 12 hours, and it will be tested 3 times with Ecus before shipping to ensure client get product working
*   VXDAS SD C4 with latest software support SCN online coding, the client need have MB subscription or contact our sales purchase login service
*   VXDAS SD C4 offer user manual free, to help the client to use our device, just keep order number contact sale offer.
VXDAS SDConnect Testable systems:
ENGINE
AUTO-SPEED
AIRCONDITIONAL SYSTEM
SRS
ABS
ASR
MPL
GM
Bz ORIGINAL ANTI-THEFT
DASX SYSTEM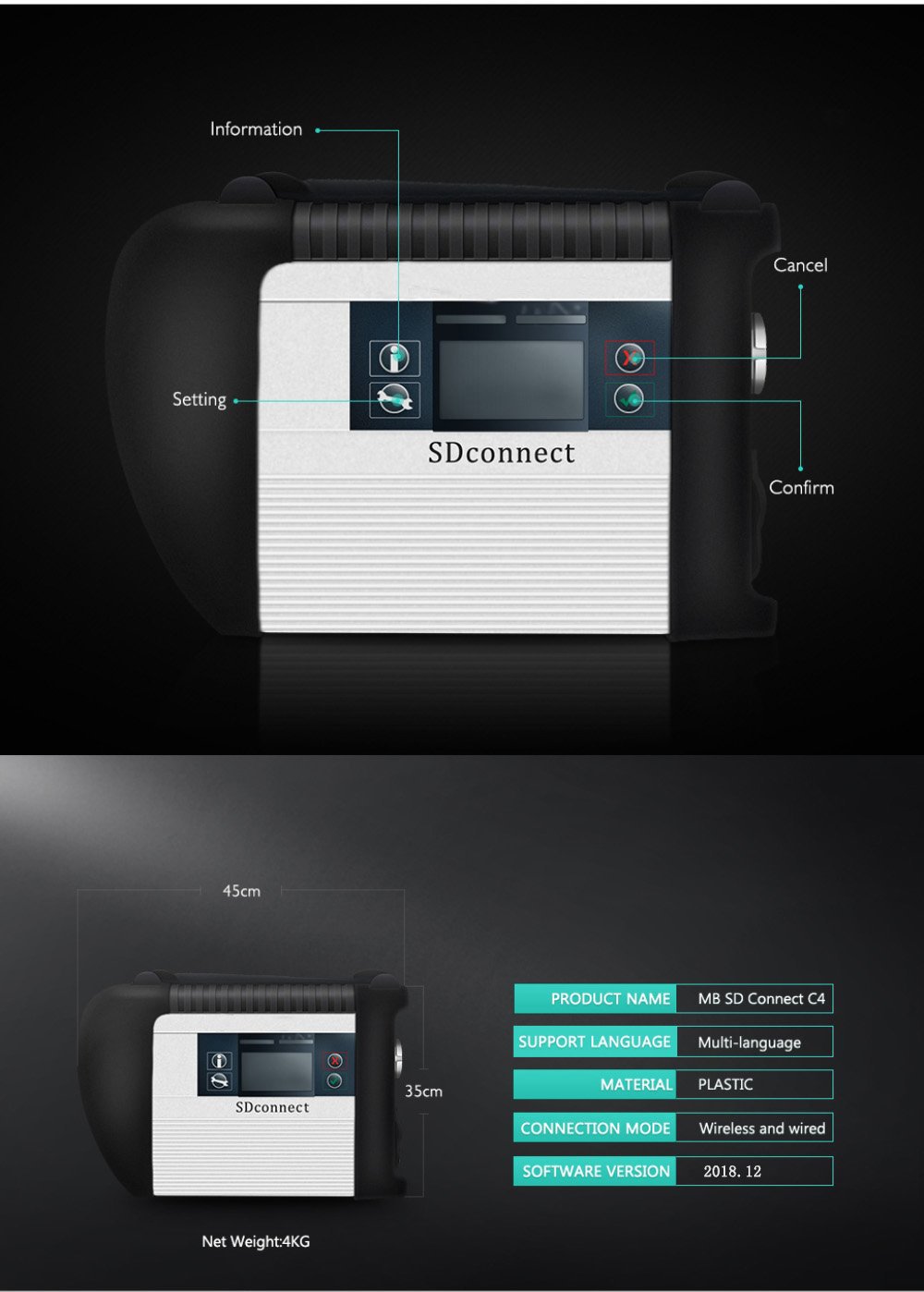 VXDAS SD Connect Software Functions:
1) DAS: the automatically Diagnosis Assistance System
2) Xentry: New software released by Benz Company after 04/2009 by diagnosisnew cars.
3) WIS.net: Workshop Information System
4) EPC.net: Electronic Parts Catalog
5) ST Finder: Part location finder
6) STARUTILITIES: the movement management system and self-test
7) SD Media: Video and PDF lessons
8) PL72: Price List to find out how much price by input the partsnumber
9) Smart TAN Code: Opened special function in DAS program with Smart cars 450/451/452/454
10) Developer model: Mercedes-Benz engineer mode, remove limitations andopen more functions.
11) Benz Disassembly system: Video lessons to teach you how to remove each
12) part from Benz cars with details order steps.
DTS-monaco special feature:
1.Quick Test: Entire vehicle ECU quick test, and the test can choose to edit more
2.Variant Coding: Coding with variation add VO- delete VO function
3.ID identification: One click to read the whole car and save all modules programmed numbers
4.Complete Variant Coding: One time to read all the ECU coding vehicle data, can be written to the vehicle again, completely off-line
operation
5.Diagnostic Services: Advanced features can see your choice of internal and external data module, turn on the computer authorization
(not driving license), Activate ECU, reset ECU, modifying the original chassis number
6.Flash programming: Fully offline programming
7.Diagnostic Trouble Code: Diagnostic module DTC fault code
8.ECU Exchange: Two of the same ECU, by reading data import data exchange
9.Symbolic trace: Record and track the file, after repeated viewing, analysis of fault logic point
VXDAS SD Connect Basic Programming Set Code Function:
1.unit for off-line programming
2.a key to off-set code
3.W166, cancel the programmed number of calculation method of urea, one perfect canceled all 166 urea system. The new c s-series to the factory installed conversion:
4.222, 205 installing fragrance systems
5.2015, paragraph 212, changing traffic light permanently lit
6.212, 204, adding electric ear
7.222 205 HU5 traffic solution for DVD video
8.W164 closed recycling system
9.W205, retro atmosphere lamp
10.205, 222 adding electric ear electric trunk, the trunk kicking function
11.166, how to modify the gateway set up codes
12.166 meters finished degrees Fahrenheit to degrees Celsius
13.US standard maintenance mileage be set to the number of miles
14.164 disabled diesel particle filter regeneration system
15.166 canceled urea
16.205 added electric rear vision mirror
17.HU45 regional Chinese resolve lock
18.W204 W166 foldable rear-view mirror
19.change the 166 on board, display in Celsius
20.W212 disable ECO configurations
21.activate the HOLD function ABR2XT
22.open W22 looked up appears
23.the AMG sports package enabled W212
24.the air bag computer reset factory State W166
25.to increase the brightness of the color instrument cluster s W222
26.22.97g to install the steering wheel shift paddles
27.W221 AMG W216 dashboard style
28.airbag ECU unlock W204 212
29.disabled child seat recognition sensors W221
30.opening rear fog lamps as spare brake lights with W222 31.increasing engine power MED177″