If you're undecided which scan tool to choose between the Autel MK808 and Autel DS808 scan tool, we're here to help you. Autel offers some of the best scan tools on the market, and it can be challenging to select from their pool of scanners as they all seem to be outstanding.
The Autel MK808 and DS808 are two excellent Automotive diagnostic scanners. They're of the same size and have similar features. Their screen size is 7-inches and uses Android 4.4.4 operating system. These scan tools are also easy to use and cover a wide range of vehicles.
In this Autel MK808 VS DS808 post, you will learn more similarities and differences between these two diagnostic scanners. This will help you to decide on which scanner to pick for your needs.
Related: Autel MS906 VS DS808
Comparison Chart: Autel MK808 VS DS808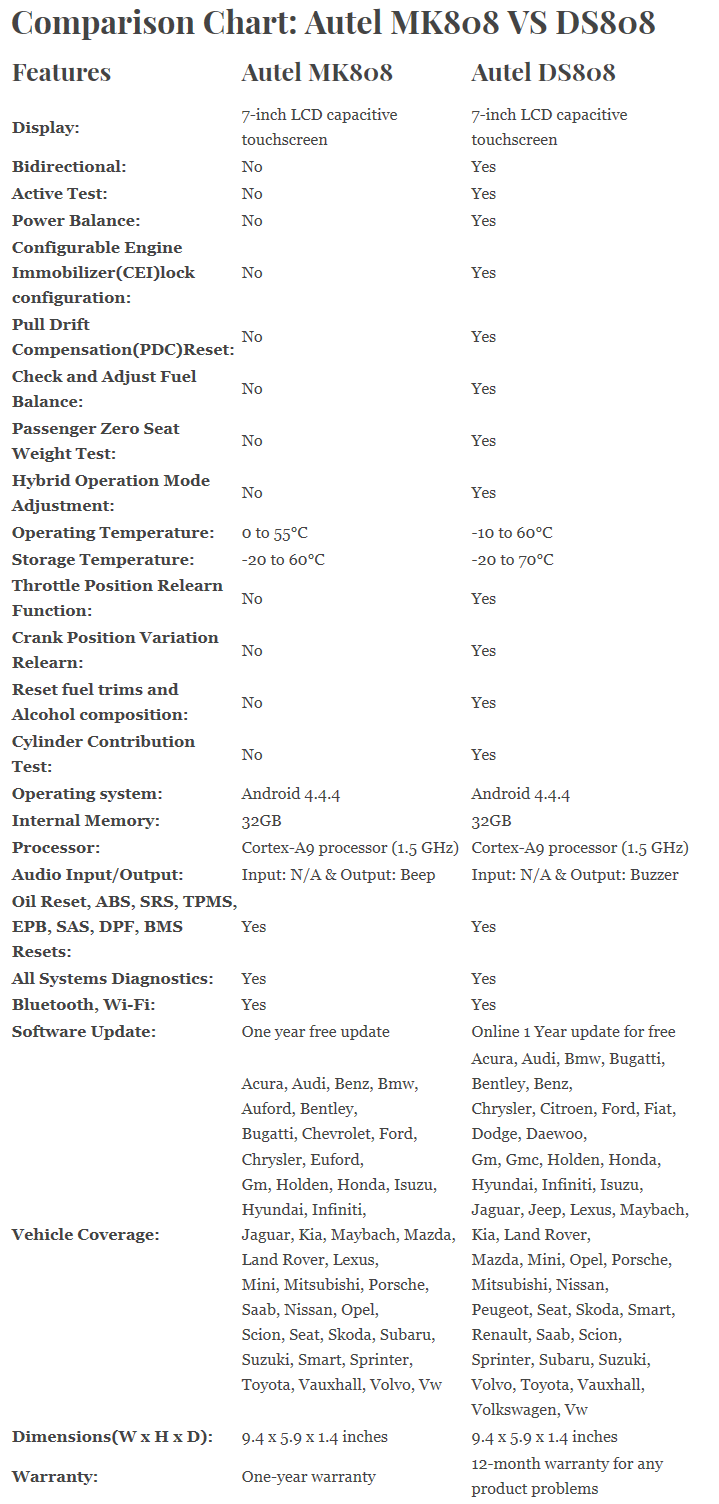 Detail Features of the Autel MK808 and Autel DS808
Autel MaxiCom MK808 Scan Tool
The Autel MaxiCom MK808 diagnostic scan tool is an easy to use and powerful diagnostic scanner. It features Android 4.4.4 operating system and A9 processor. This feature makes it be fast and quick in performing diagnosis. Also, it has a 7-inch LCD capacitive touchscreen that allows the user to perform multiple tasks at once. In addition, the multilingual system simplifies things for different users as one can change to a language they understand best.
Related: Autel MK808 VS MK808
When it comes to functions, this scan tool performs almost all basic functions of an OBD2 scanner and some few advanced functions like IMMO sensor. Other functions of the MK808 scan tool are read/erase error codes, view data streams for all systems, perform an oil reset, TPMS service, EPB reset, DPF service, ABS brake bleeding, SAS reset, and diagnose different systems such as transmission, engine, light system, brake system, fuel system, ABS, SRS, Wiper system, emission system, and much more.
Using this scanner is easy and straightforward. The large color screen displays the results and the icons are clear and very responsive. It is powered by a powerful lithium polymer battery that runs continuously for 4.5 hours. You can use it on most vehicles made from 1996 US-based and 2000 EU-based and newer vehicles. If you want the scanner to function on the most recent vehicle makes and models, you can update it online as it comes with one-year of free online updates.
Related: Difference Between Autel MS906 and MS908
Pros:
Easy to use
Fast and accurate
Intuitive user interface
Extensive vehicle coverage
Full system diagnosis
Performs a wide range of functions
Rubber sleeve for protection
Sturdy carrying case for proper storage
Cons:
Registration is cumbersome and challenging
It has compatibility issues with exotic vehicles
The information about IMMO is misleading
Autel Maxidas DS808 Diagnostic Scanner
This is another high-quality scan tool from Autel. But unlike the Autel MK808 code reader; this one is more advanced and ideal for professional mechanics and auto repair shop owners. This unit is an upgraded version of the DS708, but it is sold at an excellent price with some newly added features. The new features are Cloud-based MaxiFix, Smart AutoVIN, and Shop Manager Functions. Apart from that, it comes with all the functions of the DS708 scan tool.
Related: Difference Between Autel Maxisys Pro and Elite
The Autel Maxidas DS808 diagnostic scan tool features an Android 4.4.4 operating system and A9 quad-core processor or fast diagnosis. It is also powered by a 3200 mAh lithium polymer battery. The device is easy to use as it has a 7-inch LCD touchscreen with a high resolution of 1024×600. In addition, the LED light enables you to view diagnosis results even in the dark. You can store most of your information on this code reader as has 32GB memory.
What I like most about this scanner is its wider vehicle coverage. It covers over 80 US, European, and Asian vehicles made from 1996 to 2017. If you want to update the scanner, there is nothing to worry about as it updates automatically. With a bootup time of 15 seconds and the ability to perform both basic and advanced functions, this is a nice scanner for busy mechanics and auto repair shops.
Pros:
It is fast and accurate
Easy to use
Extensive vehicle coverage
Powerful and special functions
Automatic software updates
Multilingual menu
Wireless connection
Portable
Cons:
Needs to be charged
It comes with one year of free updates which are quite limited
There have been reports of slow Wi-Fi connection
Which scanner is suitable for you? Autel MK808 or DS808?
Basing on what you want to use the scanner for, you will find that Autel MK808 diagnostic code reader is great for the DIY enthusiast and startup mechanics, while the Autel DS808 is ideal for professional technicians and busy auto repair shop. This is because the latter is quite costly and has more advanced features when compared to the former.
But make no mistake; these two are quality scan tools with an excellent bootup time. The code readers are internet updateable and feature a 7-inch LCD touchscreen for easy interpretation of results. With Android 4.4.4 operating system and A9 processor, you will diagnose different car problems quickly and accurately.