BMW ICOM Firmware Update Help
|
Question:
I have a little problem updating firmware for Icom. Just to make story clear, i dont have too much experience with BMW Diagnostic Software and hardware, so maybe there some new issue with new version that i dont know. With older version i did make firmware update without problem.
I have installed ISTA D and ISTA P (ISTA-D 4.10.20,ISTA-P 3.64.0.600,SDP 4.10.21,BLP 4.10.21).
Not myself, with help of a guy that is also part of this forum.
Installation seems okey, but when i open ISTA-D and it detects the interfase i have "FIRMWARE" at the right  of the screen, like when i need to update firmware.
I found my old instruction to update firmware, and found the files in the installation folder:
ICOM-A1-A2-A3-Image-03-15-02.7z
Make all the process to update firmware, from 169.254.92.38:60080. First SYSTEM, then APPLICATION, no reboot between.
The system say all is okey, flash process finished…. but when i restart the device i have same old firmware and same problem
What im missing here?? Please i need some advice. Thanks!!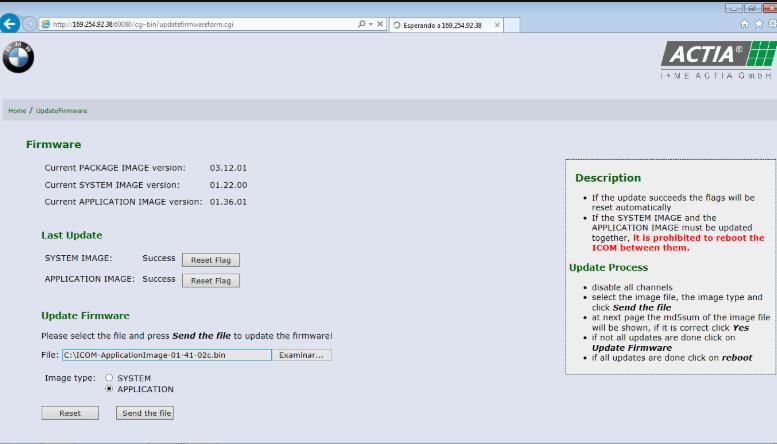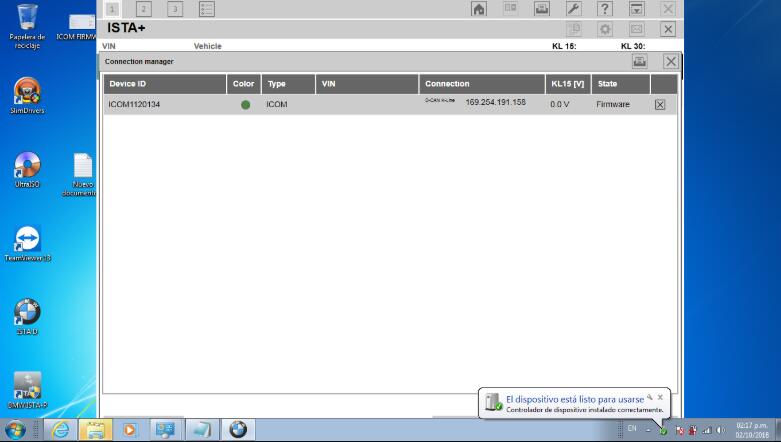 Answer:
If you want to update BMW ICOM Firmware to latest version, and run on 2015 ISTA/D and ISTA/P Dealer Level Software, This update Steps will guide you how to do firmware Upgrading on BMW ICOM A+B+C and BMW ICOM A2+B+C Diagnostic Heads.
Upgrading BMW ICOM's Firmware Manually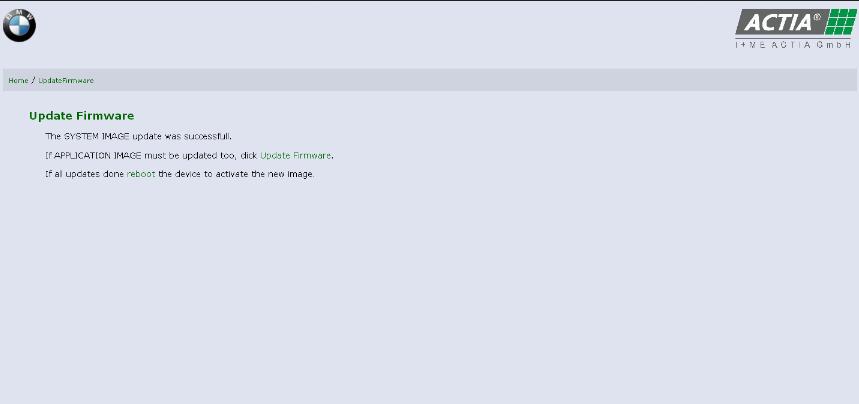 1). Connect BMW ICOM Diagnostic head with your laptop by USB cable
2). supply power for ICOM by 12V power adapter
3). Open IE browser, and open 169.254.92.38:60080/
User name: root
Password: NZY11502
4). Click "Update Firmware", and you can find the version of your ICOM A firmware.
Download latest file of BMW ICOM Firmware on OBD2TOOL, https://mega.co.nz/#F!OIQDBJTL!RpqnOiUVofxqueHVSzkc2g
5). Select "ICOM-BootImage-XX-XX-XX.bin" ICOM Firmware Upgrading file, set image type to "SYSTEM", click "Send the file"
How to update BMW ICOM Firmware Manually
6).  Display: "Write the image file to the flash?", click "Yes", then ICOM Adapter led will be RED color.
7).  When this message is showed: "The SYSTEM IMAGE update was successfull", just click "Update Firmware"
8).  Select ICOM-ApplicationImage-XX-XX-XX.bin, set image type to "APPLICATION", click "Send the file", you need wait fro some minutes.
9).  will display: "Write the image file to the flash?", click "Yes" then the LED of ICOM Adapter will be RED again
10). When it is ok, click "reboot".
Upgrading Tips for your ICOM Firmware:
Use Google Chrome or Firefox upgrade the firmware
Firmware upgrade version depends on ISID and ISSS you are using
Keep the power on during upgrading, use power supply or connect to car make sure the engine is on
DO NOT restart until both bin files are all upgrade finished.
If upgrade failed, do not worry, just re-upgrade to over write it.