【Company Introduction】
Autel is a leading company experienced in producing professional diagnostic tools, equipment and accessories in the automotive aftermarket. Focused on the orientation of "value innovation and assiduous pursuit", Autel has always adhered to deliver easier diagnostic solutions and long-time value to customers worldwide.
【Product Introduction】
Maxisys MS908P, the best possible auto diagnostic scanner with ultra-fast A9 quad-core processor, an intuitive 9.7" LED screen, multitask-capable Android OS and the revolutionary applications, is especially built to offer comprehensive OE-level diagnostics, ECU coding & programming and extremely easy, fast, and smart repair solutions for mechanics and busy workshops. Explore all diagnostic capabilities in this one tablet.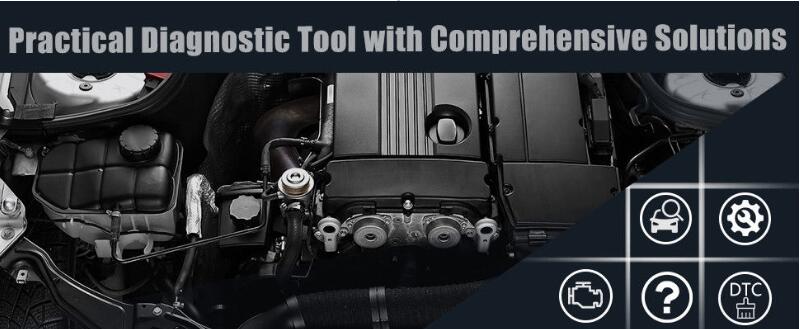 【Best Diagnostic Scanner with Comprehensive Solutions】
As an advanced version of diagnostic scan tool, MS908P offers many prestigious qualities of the MaxiDAS DS708 and OE-level diagnostics.
Exceptional in Vehicle Coverage
This diagnostic scan tool works on more than 80 US, Asian and European vehicle makes, and combines with up to 12 kinds of adapters. Even OBD-I complaint vehicles are also supported by complete adapters of MS908P.
Professional in ALL Systems' Diagnoses
1. Retrieve and display ECU information of tested control unit, including unit type, version numbers and other specifications;
2. Read all kinds of DTCs from vehicle's control systems to locate problem areas and offer possible solutions;
3. Erase the codes easily after DTCs retrieving and certain repairs have been carried out;
4. Live data of each parameter item displayed in analog, text, waveform graph, digital, or full screen display modes;
5. Active test used to access vehicle-specific subsystem and component tests.
【ECU Coding & Programming and Multiple Special Services】
Through the combination of MS908P and J2534 box, you can achieve multiple repair purposes with the all-in-one diagnostic scanner.
ECU Coding & Programming
The diagnostic tool can reflash the vehicle control modules, to update the in-car computer software and reprogram adaptive data for certain components, fixing issues of drivability, fuel efficiency, power loss, fault codes and durability of mechanical parts.
Coding: reprograms adaptive data for vehicle control modules after repairs or replacements of vehicle parts;
Reprogramming: downloads newest software version from the online server database and reprograms it to the ECU.
Complete Special Functions
With the on-screen instructions, the MaxiSys system guides you to various service operations like Oil Reset, TPMS Programming, EPB Service, ABS/SRS Services, SAS Calibration, DPF Regeneration, Anti-theft matching, reset procedures and turn off service lights.
You will experience the extreme ease of vehicle fixes and repairs by using diagnostic scanner MS908P.

【BMW and Benz J2534 Programming】
When MS908P works with J2534 ECU programming device using the updated OEM software:
The diagnostic scanner can replace the existing software in the ECU, program new ECUs, and fix software-controlled drivability issues and emission issues for over 80 vehicle makes, even the BMW and Mercedes-Benz, well solving the problems that other diagnostic tools can't reach.
【Deeper Diagnoses with Extension Tools】
MaxiSys MS908P works in combination with the diagnostic tools to your greatest advantage:
MaxiScope MP408, a PC based automotive oscilloscope, giving you an insight to the inner workings of a vehicle's electronic circuits;
MaxiVideo MV105/108, digital inspection cameras, allowing you to examine difficult-to-reach areas normally hidden from sight.
【Remote & Instant Technical Support】
Have you hit a bottleneck of vehicle diagnoses? Don't worry. MS908P helps you with solutions:
Data Logging to send help requests and to get direct services with the scan tool;
FAQ Database to get references for questions asked and answered with this scanner;
Training Channels to play videos about product usage and vehicle diagnoses stored in the diagnostic tool.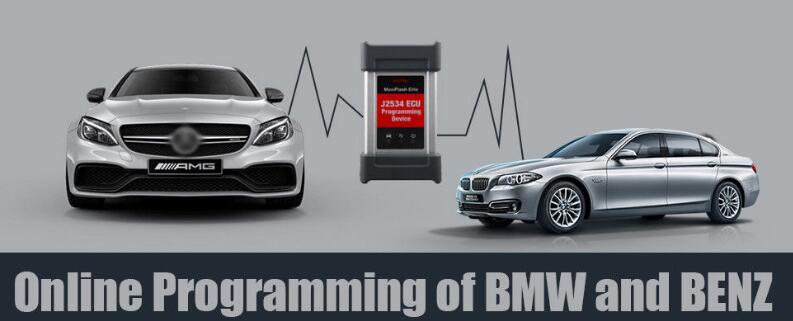 MaxiSys
When Autel first introduced the MaxiDAS, it proved such an amazing tool that many people wish they hadnever bought the others.
Designed with the DNA of Autel's diagnostics family, the MaxiSys is built to offer many of the prestigious qualities of the MaxiDAS DS708 with extreme ease of use and powerful diagnostic performance. Howeverthe MaxiSys has evolved far beyond the original capabilities. Utilizing an A9 quad-core 1.40GHz processorthat offers 50% increase in speed versus competing products, a 9.7″
LED screen with a resolution of 1,024 x768 capacitive touch screen, the revolutionary multitask-capable Android Operating System, combined withthe best possible coverage of OE-level diagnostics, the MaxiSys is the perfect diagnostic solution for shopsand technicians who demand unrivalled smart technology and smart repairs
Pacakge inclued:
1. MaxiFlash Elite
2. AC/DC Adapter (12V)
3. BMW Ethernet Cable (Optional)
4. Carrying Case
5. Lighter Fuse
6. Adapter for GM/Daewoo-12
7. Adapter for Fiat-3
8. Adapter for Benz-38
9. Adapter for Mitsubishi/Hyundai-12+16
10. Adapter for Honda-3
11. Cigarette Lighter
12. Adapter for VW/AUDI-2+2
13. Packing List
14. Ethernet Serial Cable
15. Adapter for Chrysler-16 (America Only)
16. Adapter for Benz-14 (Europe Only)
17. Quick Reference Guide
18. Main cable
19. Adapter for PSA-2
20. Adapter for BMW-20
21. Adapter for Kia-20
22. Adapter for Nissan-14
23. USB Cable
24. Clipper Cable
25. User Manual
26. Soft Cloth
27. Mini USB Cable
28. MV105 Digital Inspection Camera