How to update Autel MaxiSys Pro MS908P software and firmware
|
The original Maxisys Pro MS908P automotive diagnostic system has been designed to be the go-to tool for the professional technician who performs J-2534 reprogramming on a regular basis. Following are the firmware and software update instructions of Autel Tools Maxisys MS908P provided.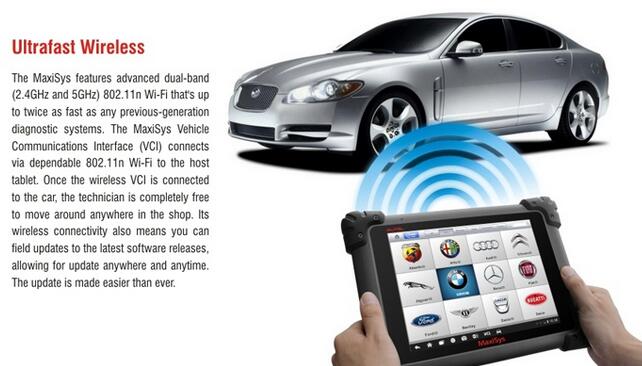 Update MaxiSys Firmware
The internal programming of the MaxiSys Diagnostic System, known as the firmware, can be updated using the Update application. Firmware updates increase the MaxiSys applications' capabilities, typically by adding new tests, new models, or enhanced applications to the database.
The display device automatically searches for available updates for all of the Maxisys components when it is connected to the internet. Any Updates that are found can be downloaded and installed on the Autel Pro MS908P scanner. This section describes installing an update to the Autel MaxiSys pro 908 on www.youobd2.com Diagnostic System firmware. A notification message displays if an update is available when the Notifications function is enabled in the Settings applications.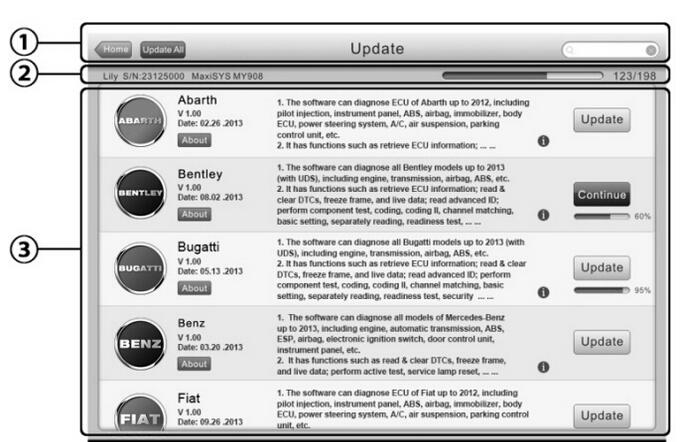 1.Navigation and Controls
Home Button-returns to the MaxiSys Job Menu
Update All-updates all available updates
Search Bar-search specific update item by inputting the file name, for example, a vehicle make
2.Status Bar
Left Side-displays the MaxiSys device model information and serial number
Right Side-displays an update progress bar indicating the completion status
3.Main Section
Left Column-displays vehicle logos and update firmware version information; tab the About button displays a function list in PDF showing more details about the firmware.