Why Not To Buy Autel MaxiSys Pro MS908P Now
|
Recently, the Maxisys Pro MS908P is sold particularly hot on our website  www.youobd2.com , It is not only because it'sattractive price, but also it is free shipping, and it is two Year Free Update Online. Therefore, at this moment to buy this product is the best time.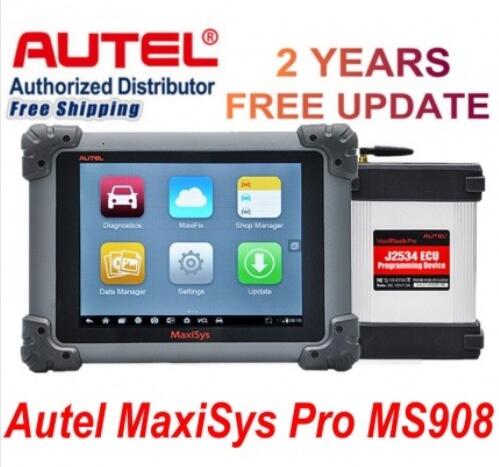 Top 10 Reasons to Get Maxisys Pro 908P:
1. Software Version: Every Car Model Software Has A Different Version.
2. Wi-Fi Technology: The VCI connects wirelessly to the main unit with Long-Range Class 1 Bluetooth
3. Update:  Two Year Free Update Online, After One Year, the Update Fee 1295USD
4. Shipping by DHL All Around the World, 3-5 Days Delivery
5.Autel Maxisys Pro can do online programming ,at the same time it's compatiable for diagnosis and online programming for part of the original software.
6.MaxiSys Pro HAVE 6 Kinds of languages for you choose:English,German, French, Spanish,Portuguese
7.Extensive vehicle coverage for more than 40 US, Asian and European vehicle makes
8.MaxiSYS Pro includes the J-2534 reprogramming box and special MaxiSYS Pro software
9.The VCI connects wirelessly to the main unit with ultra-range Bluetooth / WIFI
10.Intelligent memory of vehicles for easy and quick diagnosis of tested vehicles
The Autel Scanner MaxiSYS MS908P Spanish, French , German and Portuguese language are available right now!
Autel MaxiSys Pro Designed with the DNA of Autel's diagnostics family, the MaxiSys is built to offer many of the prestigious qualities of the MaxiDAS DS708 with extreme ease of use and powerful diagnostic performance. However the MaxiSys has evolved far beyond the original capabilities. Utilizing an A9 quad-core 1.40GHz processor that offers 50% increase in speed versus competing products, a 9.7" LED screen with a resolution of 1,024 x 768 capacitive touch screen, the revolutionary multitask-capable Android Operating System, combined with the best possible coverage of OE-level diagnostics, the MaxiSys is the perfect diagnostic solution for shops and technicians who demand unrivalled smart technology and smart repairs.
MaxiSYS Pro
The MaxiSYS Pro from Youobd2.com includes the J-2534 reprogramming box and special MaxiSYS Pro software needed for shops and technicians who demand a comprehensive diagnostic system capable of completing even the most complicated and demanding tasks. The Autel MaxiSys Pro ms908p Scan Tool comes with all of necessary adaptors for 1996 & newer vehicles, software for Domestic, Asian, & European vehicles (J-2534 manufacturer updates sold separately) and cables needed to get the job done, as well as one year of FREE updates.